Последние добавленные торренты:
> Armin van Buuren & Nicky Romero - Dance Department 06-03-2023 trance-mp3.net.zip 5
> Tiesto - Club Life Episode 844 trance-mp3.net.mp3 8
> HKR22 23 The Hedkandi Radio Show with Mike van Loon & Mark Doyle trance-mp3.net.mp3 1
> Bobina - Russia Goes Clubbing 763 trance-mp3.net.mp3 9
> Above & Beyond - Group Therapy 531 trance-mp3.net.mp3 15
> Alex M.O.R.P.H. - Universal Nation 416 trance-mp3.net.mp3 11
> Cosmic Gate - Wake Your Mind Episode 478 trance-mp3.net.mp3 10

Umek - Behind The Iron Curtain 215 (2015-08-15)
0
Категория:
Techno
|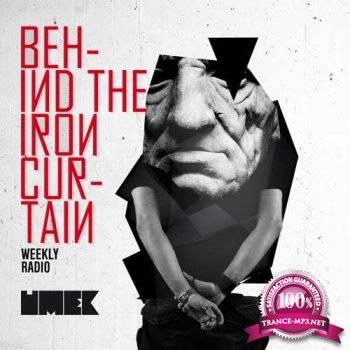 If we had to use one word to describe UMEK's fourth album, the best one would be »versatile«. Rhythmia follows up UMEK's recent direction towards a broader audience, while still staying true to his sound. His appearances on main stages of world's biggest festivals proved that you can also win the hearts of the crowd by playing different music. And that's exactly what Rhythmia offers: catchy melodies in an album title track featuring Heartik, summer sensations in Hard Times featuring Mike Vale and Chris the Voice, ragamuffin feet-itcher Burnfire and a look in the past with Luftmensch.Beatport! Rhythmia is UMEK's first digital-only album, so you can only get it in your favorite online store.
Slovenian techno DJ and producer Umek introduces an hour long trip: "Behind The Iron Curtain.

It would take a long essay to fully explain UMEK's meaning to electronic music. The Slovenian born producer and DJ has been setting trends and rocking dance floors for two decades now -- and still shows no signs of slowing down. He's tireless in his techno and tech house production and with more than 100 gigs per year, probably one of the busiest techno DJ's out there.
Artist:
Umek
Title:
Behind The Iron Curtain
Source:
Radio
Style:
Techno
Release date:
2015
Format:
mp3, mixed
Quality:
320kbps | 44.1 kHz | Stereo
Tracks:
01 (no *.cue)
Playing Time:
60 min
Size:
138 MB
Tracklist:
01. Andres Blows – Baraka (Original Mix) [Steel Ground Records]
02. Wex 10 – Retab (Original Mix) [MOD]
03. Alba Patera – Tharsis Rise (Original Mix)
04. Arthur Hernan – El Sonido Del Ritmo (Original Mix) [Jekos Lab]
05. Tobi Kramer – Hell's Half Acre (Original Mix) [Formatik]
06. Castiblanco – Time (Original Mix) [Jekos Lab]
07. D-Unity – Cancel (Original Mix) [Transmit Recordings]
08. D.Ramirez, Guy Williams – Shake (Original Mix) [Vudu Records]
09. F.e.m. – Code 1 (Original Mix) [Reload Records]
10. Francesco Guida – Darkside (Original Mix) [Undertechnical]
11. George Privatti, Pablo Say – Massama (Original Mix) [Datagroove Music]
12. Jose Ponce, Joe Red – Volca Sound (Original Mix) [Patent Skillz]
13. KH – Maxter (Original Mix) [Airtaxi Records]
14. Los Suruba – 3000 (Metoodi Hristov Remix) [Suruba]
15. Sinisa Tamamovic – Lost In Forest (Original Mix) [Night Light Records]
16. Mariano (MTF) – Wow and Flutter (Original Mix) [Prospect Records]
17. Matthew Skud, Simone De Basio – Cinderella Groove (Original Mix) [Jekos Lab]
18. Umek – Derelict City (Original Mix)
19. Unique, Sosa Ibiza – I See People (Original Mix)
20. Tyree – Turn Up The Bass Feat. Kool Rock Steady (Original Mix) [DJ International Records]
Другие похожие новости:
Информация
Комментировать статьи на нашем сайте возможно только в течении 365 дней со дня публикации.