Последние добавленные торренты:
> Armin van Buuren & Nicky Romero - Dance Department 06-03-2023 trance-mp3.net.zip 5
> Tiesto - Club Life Episode 844 trance-mp3.net.mp3 8
> HKR22 23 The Hedkandi Radio Show with Mike van Loon & Mark Doyle trance-mp3.net.mp3 1
> Bobina - Russia Goes Clubbing 763 trance-mp3.net.mp3 9
> Above & Beyond - Group Therapy 531 trance-mp3.net.mp3 15
> Alex M.O.R.P.H. - Universal Nation 416 trance-mp3.net.mp3 11
> Cosmic Gate - Wake Your Mind Episode 478 trance-mp3.net.mp3 10

Eximinds - The Eximinds Podcast 026 (2015-07-25)
0
Категория:
Другие Trance радиошоу
|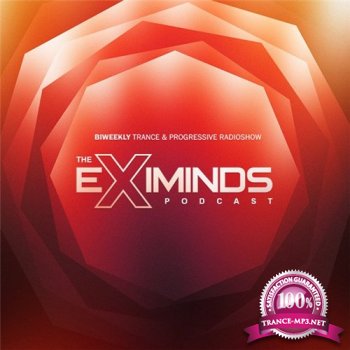 Russian duo Eximinds have quickly emerged from the massive pool of EDM talent over the last few years, carving a name for themselves in trance and progressive. While Eximinds has existed for several years as a musical experiment with various members, only in recent times under the tutelage of current members Alexander Zhukov and Dmitry Momzikov has the musical collective started to really take shape and gain the attention of EDM's elite.
Eximinds met in an online music forum in 2009. After determining that they both had a shared passion for trance and technical skill, the two teamed up and immediately started producing, notable tracks soon followed in 2010. Their hard work quickly paid off when they signed an exclusive deal with Enhanced Music in the same year.
Artist:
Eximinds
Title:
The Eximinds Podcast
Source:
Radio
Style:
Trance, Progressive
Release date:
2015
Format:
mp3, mixed
Quality:
320kbps | 44.1 kHz | Stereo
Tracks:
01 (no *.cue)
Playing Time:
60 min
Size:
137 MB
Tracklist:
01. Kolaj - The Touch [KOLAJ Music / Ditto Music]
02. Flynn & Denton - Second Chapter (Gai Barone Remix) [Subculture]
03. Enoch - Only You (Katrin Souza Remix) [Encanta]
04. Arma8 feat. Neteta - Tell me (Rais Remix) [SYMB]
05. Exis - Wisecracker (Original Mix) [Digital Society Recordings]
06. Fedor Smirnov - ID (Original Mix) [TBA]
07. Stan Arwell - Froya (Original Mix) [Macarize]
08. Piramex - Aravia (Original Mix) [Silk Royal Records]
09. Sound Quelle & Stargliders - Lucky Number (Original Mix) [Silk Music / Free Download]
10. Monoverse & Leolani - Take You Away (Original Mix) [Always Alive Recordings]
11. Daun Giventi - Oceanside (Original Mix) [Enhanced]
12. Audioleap - Gauntlet (Original Mix) [A State Of Trance]
13. Allen & Envy & Gemma Pavlovic - Heaven Won't Wait (Eximinds Remix) [Amsterdam Trance Records]
14. David Vrong - Reflection (Original Mix)[Zerothree]
15. David Vrong - Erase Me (Original Mix) [Zerothree]
16. Lane 8 feat. Lulu James - Loving You (Moon Boots Remix) [Anjunadeep]
Другие похожие новости:
Информация
Комментировать статьи на нашем сайте возможно только в течении 365 дней со дня публикации.