Holbrook & SkyKeeper, Anske - Immortal 003 (2017-11-14)
0
Категория:
Другие Trance радиошоу
|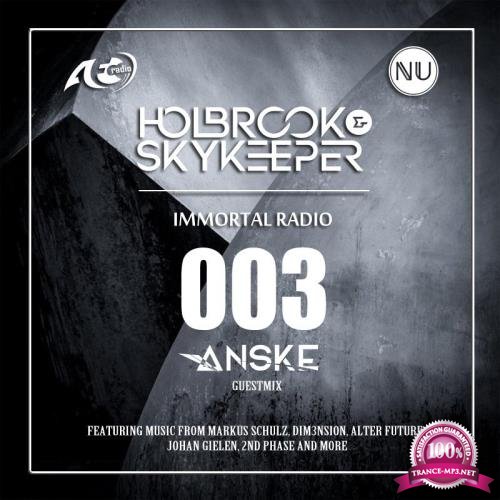 Holbrook & SkyKeeper (Дмитрий Аккерман и Илья Безлепкин) – диджеи и продюсеры из Украины и России. Проект был основан в 2010 году.

Стили: Tech Trance, Progressive Trance, Progressive House и Tech House

Резиденты Black Hole Recordings, Coldharbour Recordings, Flashover Recordings, AVA Recordings, Infrasonic Recordings, Saturate Audio и других лейблов.

Одни из фаворитов с 2013 года лучшего диджея США - Маркуса Шульца.
Неоднократные победители в номинации "Трек месяца" в немецком и итальянском изданиях Dj MAG.

Выступали на одной сцене с Markus Schulz, Richard Durand, Daniel Kandi, ReOrder, Ben Nicky, Standerwick и многими другими!

Треки получают регулярную поддержку от Markus Schulz, Armin van Buuren, Paul Oakenfold, Paul Van Dyk, Ferry Corsten, Cosmic Gate, M.I.K.E. Push, Giuseppe Ottaviani, Ben Gold, Gai Barone, Hernan Cattaneo и многих других.
Artist
:Holbrook & SkyKeeper
Title
: Holbrook & SkyKeeper, Anske - Immortal 003 (2017-11-14)
Genre
: Radioshow, Trance, Progressive, Techno, House
Year
:2017
Tracks
: 01 (no *.cue)
Time
: 60 Min
Format
:mp3, mixed
Quality
:320kbps | 44.1 kHz | Stereo
Size
: 137 MB
1. Alter Future - Surreal Autumn [Vasilek]
2. Holbrook & SkyKeeper - Time Of Long Shadows [AVA]
3. Markus Schulz Feat. Adina Butar - New York City (Take Me Away) [Coldharbour]
4. Andrew Starkoff - Hope [ST Digital Records] (Demo Of The Week)
5. DIM3NSION Feat. Rama Duke - Here With Me [ASOT]
6. ID
7. Johan Gielen - Hollow Shadow [High Contrast]
8. Darren Tate, Jono Grant - Let The Light Shine In (2nd Phase Extended Remix) [Armada]
Guestmix:

1. Eco & Jennifer Rene - Running (Extended Mix) [Black Hole]
2. Cressida - 6AM (Kyau & Albert Update) [Euphonic]
3. Ervahl & Ben Stone - Mono No Aware (Original Mix) [Trance All-Stars]
4. Claus Backslash - Full Emotions (Extended Mix) [Coldharbour]
5. Anske - Xplorer (Extended Mix) [Coldharbour]
6. Markus Schulz feat. Delacey - Favorite Nightmare (Fisherman & Hawkins Remix) [Black Hole]
7. Paul Thomas & Alex Di Stefano - Shining (Anske Remix) [Ultraviolet]
Другие похожие новости:
Информация
Посетители, находящиеся в группе Гости, не могут оставлять комментарии к данной публикации.