Ori Uplift - Uplifting Only 194 (2016-10-27)
0
Категория:
Другие Trance радиошоу
|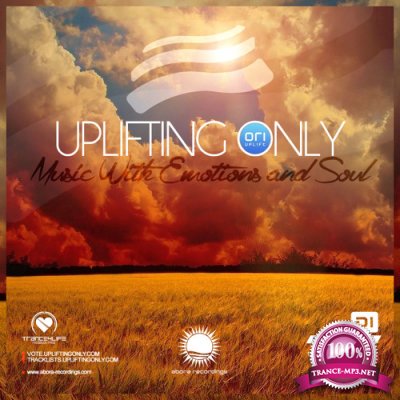 Artist:
Ori Uplift
Title:
Uplifting Only
Source:
SBD
Style:
Trance, Uplifting Trance
Release date:
2016
Format:
mp3, mixed
Quality:
320bps | 44.1 kHz | Stereo
Tracks:
01 (no *.cue)
Playing Time:
120 min
Size:
276 MB
Tracklist:
1. FAN FAVORITE: illitheas - Moments with You (Intro Mix) [Abora Skies]
2. PRE-RELEASE PICK: Night Sky feat. Rebecca Louise Burch - This I Know [Abora Ascend] [EXCLUSIVE PREMIERE]
3. Elite Electronic - The Other Side (Ikerya Project Remix) [Silent Shore] [EXCLUSIVE PREMIERE]
4. Aftermorning - Stories of Desire [D.MAX]
5. Nolans Stenemberg feat. Angel Falls - Shelter [Maraphobia]
6. Alan Morris feat. Jess Morgan - Made of Light [Amsterdam Trance Records]
7. French Skies - Orient Ii (Arrakeen & Jaki Song Club Mix) [AscendanceAudio] [EXCLUSIVE PREMIERE]
8. Carl Daylim - In My Heart [Aurora Melodies] [EXCLUSIVE PREMIERE]
9. FAN FAVORITE: Rydex - Reflection (Rich Triphonic Remix) [TFB Records]
10. Attila Syah - Rise Of The Empire (Synfoly Remix) [Ternary]
11. Menno de Jong, Adam Ellis featuring Kate Louise Smith - Set To Sail [ITWT]
12. Andres Sanchez feat. Lucy Elworthy - Bridge Of Sorrows [Driftmoon Audio]
13. Syntouch & Magic Sense - Last Train To Home [State Control]
14. Sound Apparel - Serenity (2016 Remaster) [Pulsar]
15. Fischer & Miethig - God Inside You (Mindsoundscapes 2016 Mix) [Redux 138]
16. Tobias F Weber & Marco Mc Neil - Neverending Starlight [Ennovate]
17. Nick Parker - Without You Now [Trancer]
18. NavidN2M - Hypernova (Fredrik Miller Remix) [Trance All-Stars]
19. SYMPHONIC SEND-OFF: Driftmoon - The Ark [Abora]
Другие похожие новости:
Информация
Комментировать статьи на нашем сайте возможно только в течении 365 дней со дня публикации.