Jordan Suckley - Damaged Radio 052 (2016-10-12)
0
Категория:
Другие Trance радиошоу
|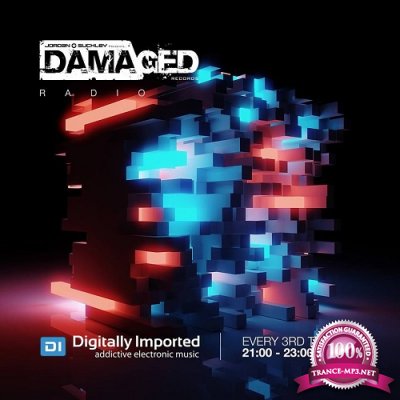 Jordan Suckley is a name that has quickly made people's tongues wag on the dance scene over the last couple of years. This is why he was snapped up by the almighty PFAgency as their fresh signing in 2009, who also host other huge artists such as Eddie Halliwell and John O'Callaghan.
Artist:
Jordan Suckley
Title:
Damaged Radio
Source:
Radio
Style:
Trance, Progressive
Release date:
2016
Format:
mp3, mixed
Quality:
320kbps | 44.1 kHz | Stereo
Tracks:
01 (no *.cue)
Playing Time:
60 min
Size:
137 MB
Tracklist:
1. Umek - Keep you engaged (Original mix)
2. BNDT, Fabrication - Lapse (Original Mix)
- Dark Mix-
3. Asteria - Whaaat (Indecent Noise Remix)
4. Quantize - Dimethyltryptamine (LOUD Remix)
5. Electric Universe, Symbolic - Science & Spirit (Original Mix)
6. Freedom Fighters & Ryanosaurus - Million Little Pieces (Outsiders Remix)
7. Revolution 9 & Amara - The Tube (Original Mix) DAMAGED
- Peak Time Mix-
8. David Rust & Gary & Gary Maguire - Reality Check (Original Mix)
9. Greg Downey ft. Bo Bruce - Come to me (Original Mix)
10. Robbie Van Doe - Malevolent (Original Mix)
11. Alex van ReeVe & The Cracken - Blue Energy (Extended Mix)
12. First Sight - Divine Force (Extended Mix)
13. Cyre & DJ T.H. - Salida Del Sol (Original Mix)
14. ID - ID (DAMAGED)
15. Talla 2XLC - Free Your Mind (Extended Mix)
Другие похожие новости:
Информация
Комментировать статьи на нашем сайте возможно только в течении 365 дней со дня публикации.