Dave Nadz - Moments of Trance 114 14-12-2011
0
Категория:
Другие Trance радиошоу
|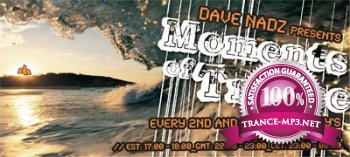 Style: Trance
DJ: Dave Nadz
Title: Moments of Trance 114
Date: 14-12-2011
Quality: 192 kbps
Ripper: FRAER_X
Size: 81 MB
Tracklist:
01. Malu - The Girl From Yesterday (Liquid Vision Remix) UNEARTHED RED
02. Solis & Mike Danis - Eleven (Original Mix) INFRASONIC
03. Bryan Summerville - Deeply Thoughts (Kaimo K Remix) D MAX
04. Luke Bond Feat Emel - Amaze (Original Mix) FSOE
05. Armin van Buuren pres. Rising Star - Touch Me (Sebastian Brandt Remix) ARMADA
06. Victor Dinaire & Bissen feat. Stephen Pickup - Run & Hide (Ian Buff Dub Mix) REDUX
07. Full Tilt feat. Deirdre McLaughlin - Surrender (Sneijder vs. John O'Callaghan Remix) SUBCULTURE
08. Mark Burton - Delusion (Original Mix) SPELLBINDING
09. Dave Nadz & LeBlanc - Distraction (Paul Trainer Remix) CONNECTIVE-SOUNDS
10. Way Out West - Killa (Orkidea Remix) SOLARIS Dave's Back On Vinyl !!!
Другие похожие новости:
Информация
Комментировать статьи на нашем сайте возможно только в течении 365 дней со дня публикации.