Idan Rachmanov Feat Idan Horta - Vocal Arena Vol 42 Guest Noel Gitman 07-12-2011
0
Категория:
Vocal Trance
|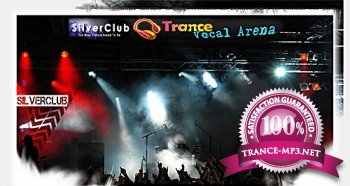 Genre: Trance
Release Date: 2011-12-07
Quality: 256 kbps
Size: 326 MB
Playtime: 2:58:00 min
Ripper: FRAER_X
Idan Rachmanov Playlist:
1. Chris Reece Ft. Jennifer Needles - Never Let Me Go (Luigi Lusini Remix)
2. Cardinal feat Arielle Maren - Sink Into Me (Protoculture Remix)
3. Matt Lange Feat Cristina Soto - The Other Shore (Tritonal Air Up There Remix)
4. Kyau & Albert - Are You Fine? (Arty Remix)
5. Las Salinas - San Miguel (Maor Levi Remix)
6. Ronski Speed Feat. Renee Stahl - Out Of Control (Denis Sheperd Remix)
7. Solis & Sean Truby ft Anthya - Timeless (Protoculture Remix)
8. George Acosta feat. Emma Lock - Never Fear (ATB Remix)
9. Richard Durand Feat. Hadley - Run To You
10. Luca Lombardi feat Johanna - Come Closer (Spark7 Remix)
11. Francis Davila Feat Flaminia - Let's Go Out Tonight (Giuseppe Ottaviani Remix)
12. Faruk Sabanci feat. Antonia Lucas - No Way Out (Temple One Remix)
13. Exostate - Without Warning (Suncatcher Remix)
Idan Horta Playlist:
Tracklist………….:
01. Scoop – Drop It
02. Tomcraft – Loneliness (Klub Mix)
03. Utah Saints – Lost Vagueness (Oliver Liebs Mix)
04. The Thrillseekers Feat. Sheryl Dean – Synaesthesia (Vocal Radio)
05. Tenth Planet – Ghosts (Vincent De Moor Remix)
06. System F – Cry (DotNL Remix)
07. Sunburst – Eyeball (Eyeball Pauls Theme) (John Johnson Rremix)
08. Yahel – Voyage (Original Mix)
09. Safri Duo – Played Alive (Airscape Mix)
10. Yves Deruyter – Back To Earth (Rave Mix)
11. Ratty – Sunrise (White Vinyl)
12. Second Sun – Empire (PVD Tpod Mix)
Noel Gitman Playlist:
1.Paul Van Dyk Feat. Sue Mclaren - Come Together (Arty Remix)
2.Cosmic Gate & Emma Hewitt - Be Your Sound (Extended Mix)
3.Beat Service Feat. Neev Kennedy - But I Did
4.Boom Jinx Feat. Justine Suissa - Phoenix From The Flames (Omnia & The Blizzard Remix)
5.Shogun - Lotus
6.Kyau & Albert - Once In A Life (Tritonal Remix)
7.John O'Callaghan Feat. Cathy Burton - Perfection (Shogun Remix)
8.Emma Hewitt - Colours (Armin Van Buuren Remix)
9.Susana - Home (Daniel Kandi Retrofit Remix)
Другие похожие новости:
Информация
Комментировать статьи на нашем сайте возможно только в течении 365 дней со дня публикации.