James Minas - Trance Down Under 026 07-12-2011
0
Категория:
Другие Trance радиошоу
|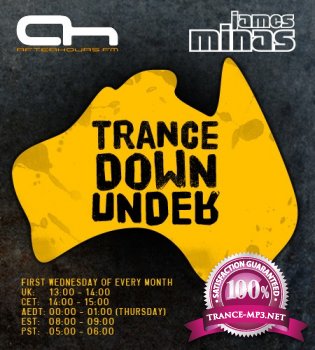 Genre: Trance
Release Date: 2011-12-07
Quality: 192 kbps
Size: 82 MB
Playtime: 60 min
Ripper: FRAER_X
Trance Down Under 026 Tracklist
01. The Madison - Tonight (Original Mix) [Enhanced Progressive]
02. Jaytech - Overdrive (Original Mix) [Anjunadeep]
03. Daniel Portman - Dark Age (Original Mix) [Unreleased Digital]
04. Above & Beyond - Formula Rossa (Original Mix) [Anjunabeats]
05. Maor Levi & Bluestone - On Our Own (Original Mix) [Anjunabeats]
06. Pete Silver - Chinese Flower (James Minas Remix) [Unearthed Records]
TRACK OF THE MONTH
07. Beat Service feat. Neev Kennedy - But I Did (Extended Mix) [Beat Service Audio]
08. Ruby & Tony - Blitz (Norin & Rad Remix) [Infiinity Records]
09. Santerna feat. Vadim Kapustin - I Believe In Life (Abstract Vision & Elite Electronic Dub Mix) [Infra Progressive]
10. Matt Lange feat. Cristina Soto - The Other Shore (Tritonal Air Up There Remix) [Air Up There]
11. W&W feat. Bree - Nowhere To Go (Shogun Remix) [S107]
12. Rafael Frost - In The Air (Original Mix) [Flashover]
13. Dave Schiemann - Insider (Wezz Devall Remilf) [Captivating Sounds]
14. Erick Strong - Payback (Aaron Camz Remix) [Interstate Recordings]
15. Sied Van Riel feat. Fenja - The Game (Original Mix) [Liquid]
16. JOOP & Raneem - PLUR (Original Mix) [High Contrast Nu Breed]
17. Jorn van Deynhoven - Spotlight (Original Mix) [ASOT]
18. Richard Durand feat. Hadley - Run To You (Sean Tyas Remix) [Magik Muzik]
19. Fady & Mina - Egypt (Original Mix) [FSOE]
20. Michael Jay Parker & Jan Miller - Shinowata (Paul Webster Remix) [Garuda]
21. Running Man - Eternity (Original Mix) [Blue Soho]
22. Luke Bond feat. Emel - Amaze (Original Mix) [FSOE]
Другие похожие новости:
Информация
Комментировать статьи на нашем сайте возможно только в течении 365 дней со дня публикации.