Ex-Driver - Supersonic December 2011
0
Категория:
Другие Trance радиошоу
|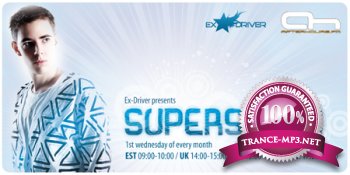 Genre: Trance
Release Date: 2011-12-07
Quality: 192 kbps
Size: 82 MB
Playtime: 60 min
Ripper: FRAER_X
Ex-Driver - Supersonic December 2011 tracklist:
01.Bushi & Luke Terry - Skyfall (Original Mix) [Unearthed Red]
02.Chris Turner & Lost Emotions feat. Amelia - Rain (Corsar remix) [Crystal Source]
03.Simon O'Shine - Enthusiasm (Original Mix) [Defcon]
04.Justin Dobslaw - Middle Ground (Paul Miller Remix) [Unearthed Red]
05.Hendrik Jelsma & Immersiv - Seems To Be (Thomas G Lifted Mix) [Crystal Source]
06.Abstract Vision & Elite Electronic feat. Eva Kade - Miracle (Dallaz Project remix) [Vendance]
07.James Rae - Back Again (Sly One vs. Jurrane's Global remix) [Kill The Lights]
08.Sean Tyas feat. David Berkeley - Believe (Original Mix) [Tytanium]
09.Sensetive5 featuring Liek - I Can't Believe (Stan Wise Remix) [Unearthed]
10.JK Walker - Double Life (Activa remix) [Borderline]
11.Andrew Candid & John Dopping - Savannah (Indecent Noise Remix) [Nu-Depth]
Другие похожие новости:
Информация
Комментировать статьи на нашем сайте возможно только в течении 365 дней со дня публикации.