Abstract Vision & Elite Electronic - Cool Stuff 003 03-11-2011
0
Категория:
Другие Trance радиошоу
|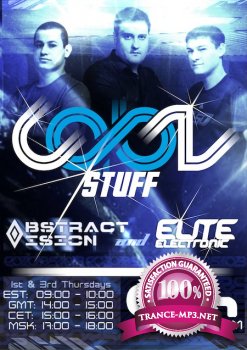 Genre: Trance
Release Date: 2011-11-03
Quality: 192 kbps
Size: 83MB
Playtime: 60min
Ripper: FRAER_X
Abstract Vision & Elite Electronic - Cool Stuff 003
01. Relaunch - Suspense (Basil O'Glue Remix) [Hyline]
02. Niko Fantin - Deep Ocean Scream [Lowbit]
03. DJ Glushkov feat. Vika Grand - Losing My Mind (Saint-Jules Dark Moon Dub) [LiftedSounds]
04. IN5UM - Beginning Of The End (The Airstatic Digital Mix) [High Light]
05. Almost Famous - Inspiration [Vendace]
06. Type 41 feat. Tiff Lacey - Never Forget you (Kaimo K Remix) [Silent Shore]
07. Abstract Vision & Elite Electronic - Never Forget [Infrasonic]
08. C-Systems feat. Hanna Finsen - Pieces (Ultimate Dub) [Unearthed]
09. Almar - Deliverance (Tech Mix) [nu-depth]
10. TUNE OF THE SET: AS Alien String - Alien String [NatLife]
11. BACK TO ROOTS: Scooter - Rhapsody In E [Club Tools]
Другие похожие новости:
Информация
Комментировать статьи на нашем сайте возможно только в течении 365 дней со дня публикации.