Tucandeo pres In Sessions Episode 010 21-10-2011
0
Категория:
Другие Trance радиошоу
|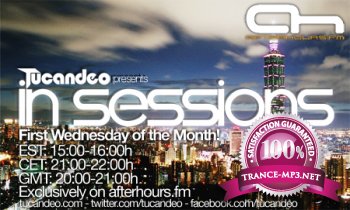 Genre: Trance
Release Date: 2011-10-21
Quality: 192 kbps
Size: 165MB
Playtime: 120min
Ripper: FRAER_X
1. Junkie XL - Molly's E (Original Mix)[Nettwerk]
2. Romano Alfieri & Luca Bear - Leave The Valley(Tucandeo Bass Edit)[CD-R]
3. Tucandeo - Macula (Original Mix)[Infrasonic]
4. Basil O'Glue - Angular Momentum (Original Mix) [Coldharbour]
5. Markus Schulz feat Elevation - Clear Blue (Ted Rivera Rework)[CD-R]
6. Matt Lange vs The XX - Rift Time (Original Mix)[CD-R]
7. Scott Lowe & Duncan Brewer - Forgetting Things (Tucandeo Remix)[Perceptive]
8. Addictive Glance - Sakura (Wellenrausch Remix)[Timeline Music]
9. Chris Harvey - In Dreams With Betty (Original Mix)[Oxygen Recordings]
10.Max Graham - F.Y.C (Original Mix)[Rebrand]
11.ID
12.Nitrous Oxide - iPeople (Original Mix)[Anjunabeats]
13.Tucandeo - Galatea (Original Mix)[Infrasonic]
14.ID
15.Aaron Camz - Distance (Raneem Remix)[High Contrast]
16.Ivan Nikusev & Wav-E - Aurora (Airwave Breaks Remix)[Ora Recordings]
17.ID
18.Sean Tyas - Melbourne (Tucandeo Remix)[CD-R]
19.ID
20.Mike Saint Jules - Crossing Planets (Basil O'Glue Remix)[Armada]
21.Passenger 10 - Hit The Ground Running (Original Mix)[Unreleased Digital]
22.MDX - Drive Out (Marc Simz Remix)[High Contrast Recordings]
23.W & W - Beta (Alpha Mix)[Captivating Sounds]
Другие похожие новости:
Информация
Комментировать статьи на нашем сайте возможно только в течении 365 дней со дня публикации.