Various Artist - Time Dance Club April
0
Категория:
Другие жанры
|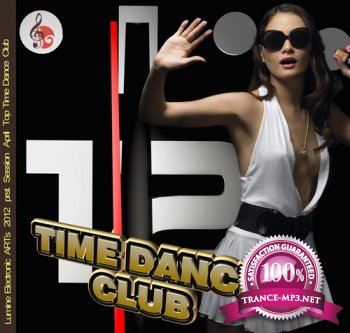 Genre: Pop, Dance, Club
Release Date: 2012
Quality: MP3 | 320 kpbs | 44.1 kHz Stereo
Size: 263 mb (+3% Rec.)
Playtime: 02:54:12
TrackList:
01-Pitbull Featuring Chris Brown-International Love
02-Global Deejays-Hardcore Vibes
03-Corina feat. JJ-No Sleepin
04-Fred Baker-Never Let Me Go
05- Roos Kenedys - Besos de Miel
06-Katy Perry-The One That Got Away
07-Boulevard des Airs-San Clemente (Je Voulais Vous Parler Des Femmes)
08-Lorie-Dita (radio Edit)
09-Roxette-Excuse Me, Sir, Do You Want Me To Check On Your Wife
10-David Cuello & Danny Romero - Oye Princesa (Original Mix)
11-Mokobe feat. Yorobo-Oulala
12-Mills & Kane-Rising Star
13-Gums Feat. Elephant Man-In My Life
14-Greg Parys-Get Seksy
15-BelMondo-Un Beso
16-Arina & Razmer Project-My Moscow Love (Extended Mix)
17-Rihanna-We Found Love (D.V.Speedy Partymix)
18-Roxette-Turn Of The Tide
19-Katy Perry-Circle The Drain
20-Britney Spears-Somhore tak
21-Luka Caro Presents Midnight - Running Away (Radio Edit)
22-F&M Project Feat. Cristina - I Dont Bite (Original Mix)
23-Dj Sanny J & D@niele feat. Xavi One - Bomb of Love (Radio Edit)
24-Allexinno & Starchild - Yasera (Club Mix)
25-RUBY - Miracle Of Love (Radio Edit)
26-Javier Declara feat Cristian Deluxe - No Te Conviene
27-Siko Ruiz Ft Twenty & Powerflow - Dentro De Mi Habitaciуn (Original Mix)
28-Julien Dore-Laisse Avril
29-Mike Candys & Evelyn feat. Patrick Miller-One Night In Ibiza
30-The Potbelleez-From The Music
Другие похожие новости:
Информация
Комментировать статьи на нашем сайте возможно только в течении 365 дней со дня публикации.